Why RESPCT.ME
At the beginning stood the question
"How does one become a Fairfashionista?"
"Not so easily"
and I realized that it's difficult to find out at many well-known brans, if that which they are calling green is truly green, or whether it's more of a case of "Greenwashing" because that's how the client likes it. And when you look around at the more well-known, honestly engaged fair labels, the convincing stylish statement is often missing - the galvanizing sustainable aesthetic.
In actuality, there is a whole fascinating Fair Fashion Scene out there though, with small designers who make huge style and brands that are not so small at all, who already developed a seasonable mindful aesthetic a long time ago - that lets every fashionista's heart beat faster. But they're arduous to find, some because they have little reach, others because mindfulness and fairness are too self-evident to them to discuss it widely.
This is what should change:
At RESPCT.ME Fairfashionistas can find an attractive alternative offering, not only of products but also of value-adding services and events that inspire to an appreciative dealing with objects.
It was close to hand, to not limit the offering to fashion but to expand, beyond the things we wear on our bodies, to also offer the objects all around us. That's how a shop developed, in which one can buy everything (apart from a few utility objects).
It would give me great pleasure if you would experience RESPCT.ME as an enrichment!
Susanne Bleicher-Kaikkis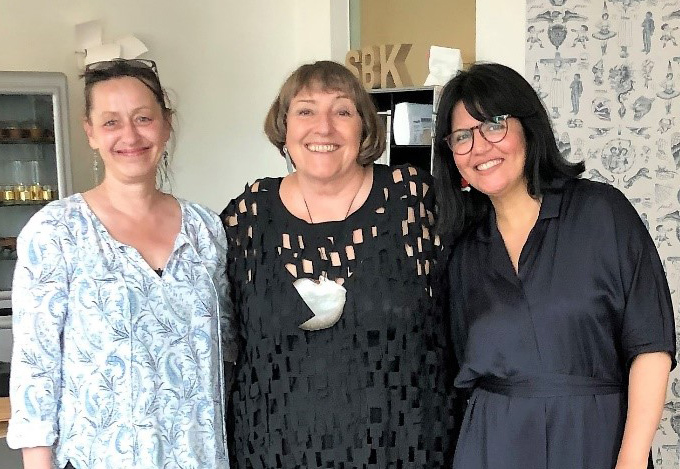 (in the center of the image with Alrun Zimmermann and Sandra Barbosa Bennöhr of the Fairstyle Bazaar Team)